Dec 23, 2015
0 comments
by

Jesse Chesley
It's the holiday season and you know what that means! Stuffing your face with sweets and ripping through wrapping paper like it's your 9 to 5, but it also means movie time. Our team at Charlie Hustle has been hard at work trying to answer the age old question of "What is the best Christmas movie?" Not every Christmas movie was good enough to make the cut, but we tried our best to deliver a top ten to live by over the holidays! Enjoy.
Desperate last minute shopping? Isn't that the true meaning of Christmas? Coming in at number 10 Jingle All the Way captures this to perfection. Arnold Schwarzenegger plays a mattress salesman with a bad habit of putting his work ahead of his family. His son Jamie wants only one thing for Christmas, a Turbo Man action figure. Howard promises both Jamie and his wife that there will indeed be a Turbo Man under the tree for Jamie on Christmas morning. Then, December 24th hits and Howard hasn't actually bought the toy yet. Howard then spends a chaotic Christmas Eve madly scrambling from store to store in desperate search of a Turbo Man. 
The Santa Clause is an instant Christmas classic. A series of events is set into motion when Scott Calvin decides to snag a dead guy's jacket on Christmas Eve. The great performance from Tim Allen frees you up to kind of forget that Santa is dead, because with the rebirth of Allen's "Christmas spirit" comes the rebirth of Santa. The movie does a great job of capturing the whimsy of Christmas with a healthy mix of elves, hot cocoa, and massive weight gain. However, where it really hits home is in it's rejuvenating portrayal of the father/son relationship. Maybe not our favorite holiday hit, but a well balanced family flick that is more than deserving of the number 9 spot.
Not only is Die Hard one of the top action movies of all time, but it makes an equal case for climbing in the rankings amongst top Christmas movies. At number 8, Die Hard is a perfectly constructed thriller that follows John McClane to L.A in hope to get his wife back. Sure, the film mostly uses Christmas as iconography and backdrop,  and yes, it wasn't released during the holiday. However, that doesn't take away from the backbone of the film which is reuniting an estranged family, and what's more Chistmas-y than that?
Dr. Seuss' How the Grinch Stole Christmas definitely has its moments. It's fun to see classic cartoon bits replicated so faithfully with real actors (such as when the Grinch sneaks across the floor horizontally on fingertips and tiptoes). And just as Jim Carrey's unbridled shenanigans threaten to push this overstuffed sleigh of a movie past the brink, Anthony Hopkins' soothing narration reins it in nicely. Carrey turns out to be a no-brainer casting to help marry the animated classic with the just as "animated" modern day interpretation. 
This time, Kevin McCallister actually manages to make it to the airport with his wild and crazy family. But, during the frantic last minute scramble through the terminal, Kevin gets separated. The family flies off to a rain-sodden Christmas break in Miami and Kevin finds himself on board a flight from Chicago to New York. Kevin, inevitably, is both older and wiser, with the cutesy factor that was part of his appeal first time round fading fast - thus he's given even more crisp one-liners to toss off, which he does with the delivery of a pro. The movie tends to cover all it's bases when developing the plot around Kevin flying solo once again. However, when it comes time to punish Marv and Harry, everything is out the window. Before Marv even makes it into the booby trapped home he's struck in the head by a brick four times. It's more believable for Kevin to be on trial for murder, then on a plane back to Chicago. Still, you just roll with it, because your too busy laughing to really catch the plot holes. 
High-spirited high jinks on Christmas Eve put Frank Cross in a ghostly time warp in this take-off of Charles Dickens' "A Christmas Carol." Cross, who has made the meteoric rise from the depths of the mailroom to TV network president, is mean, nasty, uncaring, unforgiving and has a sadistic sense of humor - perfect qualities for a modern-day Scrooge. Before the night is over, he'll be visited by a maniacal New York cab driver from the past, a present-day fairy who's into pratfalls and, finally, a ghoulish seven-foot-headless messenger from the future. Murray shines as his trademark delivery and casual cruelty make him likable even when at his worst.
This beloved holiday movie follows the wintry exploits of youngster Ralphie Parker, who spends most of his time dodging a bully and dreaming of his ideal Christmas gift, a "Red Ryder BB Gun." Frequently at odds with his cranky dad but comforted by his doting mother, Ralphie struggles to make it to Christmas Day with his glasses and his hopes intact. But, there is one thing we can all take away from this film and it's this: if you ask for a BB gun for Christmas, please be careful and don't shoot your eye out!
Buddy has a heart as big as the arctic north. There's not a mean streak or uppity attitude to be found anywhere within. And although he's as out of place as a palm tree on glacial ice, we empathize. After all, being raised among elves at the North Pole is not conducive to understanding the hard-bitten cynicism of his New York relatives. Still, Elf easily holds up as one of the top Holiday movies probably more than it should have; with the right mix of heart warming and gut busting, this oversized elf delights many a viewer.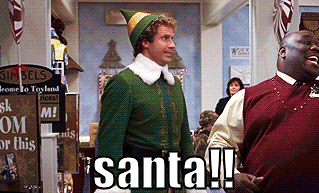 As the holidays approach, Clark Griswold wants to have a perfect family Christmas. Nothing says "Griswold Family Christmas" like a hand-picked, over-stuffed pine brimming with holiday cheer (and a ton of sap). However, things go awry quickly. Uncle Eddie and his family show up and start living in their camper and dumping their shitter down the drain. Even worse, Clark's employers renege on the holiday bonus he needs. A perfect blend of disfunction and bad luck fuse together to help reveal that family is the most important thing on Christmas.
The greatest thing about 'Home Alone' is that you can watch it a dozen times and still be entertained. With all the zippy gags and pranks you could see from a mile away, it still had you laughing as the 'Wet Bandits' failed over and over again. It's easy to see the appeal Kevin McCallister has to the younger viewer: he is an unapologetic rule-breaker, living in his own world. Why would he be scared when his family leaves him alone at home for Christmas? Why wouldn't he binge on junk food, watch rubbish, and use his wits to fend off two crooks? Because he's Kevin McCallister, a beacon of bravery and a symbol of hope for all millennials.
We hope you enjoyed checking out our breakdown of these holiday classics. We would love to hear what you think! Maybe you think Arnold Schwarzenegger should be at the top of any list he's on or that Home Alone was better the second time around. Comment below to let us know what you love and what we missed! We here at Charlie Hustle wish you the very best this holiday season, and look forward to a new year creating more memories with you!